We love hug stuff and we like to share.

Want a button?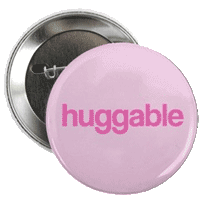 they are available at cost from cafe press. Read the story behind the "HUGGABLE Campaign." (you can also print out buttons)
HugWarrior Thermals (with "Love more." & "Fear Less." on the sleeves) are avail. from Spreadshirt.

Other T-shirts are avail at the cafe press store.

Want a DVD?
DVDs are not for sale, but we frequently give them out as gifts. (All content is available in the video archives and on YouTube, as well.)