…there was CollegeClub.com & Student Advantage.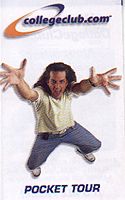 I was the "Tom" of CollegeClub. I had 4 million friends and had my face all OVER the place. INCLUDING the sides of keg cups, stickers, and a bus.

Months before CollegeClub's IPO, the first tech bubble burst. Their business plan fell apart and the value of my stock options was zero. I moved on to webcam-based communities, and new companies took their shot at the college space.

posters of my screaming mug were on most college campuses:


over-zealous Spring Break promotion:

It was an amazing place to work. This was a more dream-filled and optimistic time for the web. I remember sleeping in the office many times… dedicated to the dream of changing the world. I still work with many of my old colleagues including Bennett from freshecho.com & Dmitry from Veoh.com. My brother and sister-in-law even met while both working there.
This was back when people still said, "Oh, I don't do computers." And those of us who "got it" were a part secret club.
It was a magical chapter of my life.

*It was while working here that I (unknowingly) introduced the world to the high profile fraud, "Kaycee Nicole."